The main benefits are:
Class SR1 (BS8204-1-1999) surface regularity can be achieved if specified
Soundness category 'A' according to BS8204: Part 1 BRE Screed Test
Ideal for use with Under Floor Heating as the flowing screed fully encapsulates the pipes
Self compacting - Very dense and uniform throughout the floor
Installation speeds of up to 1000M2 per day
Minimal requirement for joints and can be laid much thinner
Access for following trades within 48 hours
Guaranteed strengths of 30 N/mm2
Warranty available from the manufacturer
The team behind Forde have well over 20 years of experience in installing flowing screeds and are proud to say that not one of our floors has ever failed. We work closely with all the major manufactuers. We firmly believe this to be the ultimate in self compacting flowing screeds. Gypsum based screeds are either based on a Alpha Hemi-Hydrate binder or Anhydrite. When manufactured it is batched on the premises of the supplier by computer, which is another benefit over sand and cement screed as most sand and cement screeds are hand mixed on site, leading to inconsistent mixes throughout the floor.
Calcium sulphate screeds can be installed in almost all building constructions except wet areas such as showers. This is due to the way in which the screed works. The screed expels water as it dries, the more water it can get rid of, the harder the material becomes. If the product was left susceptible to constant contact with water it would ultimately fail.
Calcium sulphate screeds are the ideal thermal transfer for your Under Floor Heating as it fully encapsulates the pipes. The main problem with sand and cement screeds is the compaction; by this they are only as good as to what the site operative can achieve. This means that there will always be uncompacted areas with air, much like an Aero bubble bar. Air is an excellent insulator, thus stopping the thermal transfer from the Under Floor Heating pipes to the screed. With calcium sulphate screeds, as it is self compacting and fully flows all around the pipes, you do not get this problem.
Please see below our typical flowing screed finish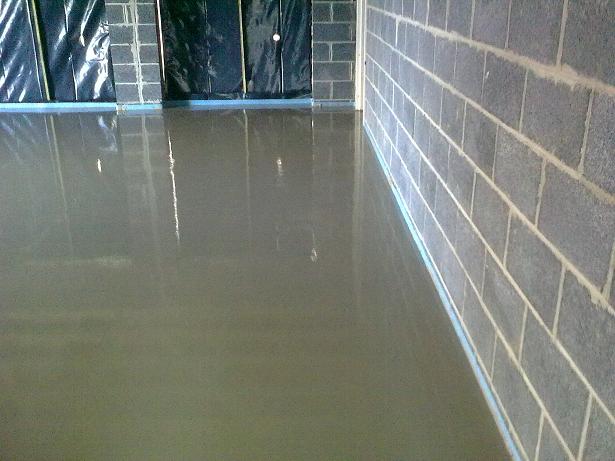 Services we provide: Underfloor Heating, Air Source Heat Pump Floor Screeding, Solar PV.
For a no-obligation proposal, call 01709 761 617 or send us an email.